Feminist Activity within the Ukrainian Canadian Community in Edmonton, Alberta
During the 1960s and 70s in Canada, there was a rise in progressive politics and the New Left—as opposed to the Old Left represented by the Communist Party--characterized by political activism, intellectual, and artistic exploration of movements such as environmentalism, anti-war, civil rights, and women's liberation, to name a few. Students and young adults were at the forefront of this movement—children born to parents who experienced the turmoil of World War II—and were rethinking in the post-war economic boom how to build a more just, equal, and ethical society. Among these students and activists were individuals who were raised within the Ukrainian Canadian community and witnessed first-hand the discrimination and marginalization their parents and grandparents faced upon immigration to Canada, but also the ways they built robust communities and maintained their Ukrainian identities while integrating into Canadian society. Simultaneously, they were also made aware of the civil rights movements occurring in the United States and nuclear disarmament movements occurring in Canada and Europe.
Edmonton became home to a group of individuals comprising a unique intellectual milieu—academics, writers, and creatives of Ukrainian descent who longed to explore, express, and preserve Ukrainian culture, language, and history as they had experienced and learned about it in the Ukrainian Canadian context while combining this interest with their progressive politics. They engaged in diverse activities such as advocating for Canada to recognize a policy of multiculturalism, staged actions in defense of Ukrainian political prisoners in the Soviet Union and met with dissidents in exile from the Soviet Union and peers within the Eastern Bloc, as they created sustainable Ukrainian organizations in Edmonton. Among this group were several Ukrainian Canadian women engaged in the struggle for women's liberation who came together to organize social, political, and ethnocultural activities, conferences, and even a housing co-op along their shared dedication to Ukrainian community and feminism. This chapter of the Local Narratives project explores their stories and the numerous initiatives they undertook throughout the late 1970s and 1980s.
Below you will find short summaries of the diverse organizations and initiatives started by this group of women. The summaries are based on archival research into Common Woman Books (the Provincial Archives of Alberta) and the Second Wreath Conference (archives on loan to Kalyna Somchynsky by Chrystia Chomiak), existing literature (a survey of literature is found on the third page of this chapter), and interviews with Chrystia Chomiak, Olenka Melnyk, Anna Radyo, Myrna Kostash, and Lida Somchynsky. The interviews can be accessed on the second page of this chapter.
Hromada: The Cultural Group; The Women's Group; and The Housing Co-op
In the mid 1970's, Edmonton, Alberta became a hub for young, progressive, Ukrainian students and intellectuals of the New Left. Many of these individuals were former or current members of the Ukrainian Canadian Students' Union (SUSK) who had become politically active while pursuing undergraduate or graduate studies, some were beginning to work at the newly opened Canadian Institute of Ukrainian Studies at the University of Alberta, while others were exploring Ukrainian history, culture, and identity within their respective disciplines. The Hromada Cultural Group was formed by individuals navigating how they could articulate a pro-Ukrainian, anti-Soviet, yet socialist position simultaneously—this contemporary and progressive concept attracted like minded individuals from the Ukrainian community.
The Hromada Women's Group was formed as an off shoot of the Hromada Cultural Group after many women noticed that their male contemporaries spoke over and disregarded their opinions, even though they claimed to be feminists themselves. The women came together to form a united front and develop tactics to intervene in meeting dynamics and have their voices heard and acknowledged. In the process, they created a separate space where they could talk openly and explore dimensions of their own oppression and experience, learn about women's history both in the Ukrainian community in Canada and in Ukraine, and organize various events and activities. In particular, the women of the Hromada Women's Group staged actions in defense of women political prisoners in the Soviet Union and built connections with feminists from Ukraine and Russia after they had been exiled from the Soviet Union. For example, they organized a speaking tour for one of the founders of the modern women's movement in Russia--Tetiana Mamonova.
The images below illustrate an action organized by the women of the Hromada Women's Group in support of women political prisoners in the Soviet Union.
The Hromada Housing Co-op was established by the individuals in the Hromada Women's Group with the support of members from the broader Hromada Cultural Group. Original residents included Halyna Freeland, Chrystia Chomiak and her husband John-Paul Himka, Marusia Petryshyn and her husband Roman Petryshyn, Olenka Melnyk, Anna Radyo, Myrna Kostash, Lida Somchynsky, and Bohdan Krawchenko and his wife Kim Fraser. It was started with the intention to foster Ukrainian language and culture, build a feminist community to empower women and challenge gender stereotypes, and incorporate socialist principles in the organizational structure. These individuals sought to build a home where the Ukrainian community could thrive in a largely anglophone, urban, prairie city; where individuals and families could live communally and help one another with child rearing and daily life; and where proximity to one another would make it easier to socialize, organize, and participate in activism. Halyna Freeland functioned as the lawyer for the group and helped to secure a piece of land in Old Strathcona initially purchased for development by the City of Edmonton and renowned architect Gene Dub was hired to design the townhouses making up the co-operative.
The Hromada Housing Co-op prides itself as an inclusive alternative living arrangement that maintains close ties with Edmonton's Ukrainian arts, culture, and academic communities. It has been home to many scholars from Ukraine either studying temporarily or finding permanent employment with Ukrainian centres such as the Canadian Institute of Ukrainian Studies and the Kule Folklore Centre. Although the residents are not exclusively Ukrainian, the Hromada Housing Co-op consists of a large concentration of Ukrainian individuals dedicated to supporting the community both locally and abroad. As a contemporary manifestation of the Hromada Housing Co-op's Ukrainian foundations, residents hung Ukrainian flags in front of their homes after the escalation of Russia's war in Ukraine on February 24, 2022.
Collectives Small Businesses: Common Woman Books and Zoryana
Halyna Freeland and Anna Radyo worked next door to one another on 104 Street off Whyte Avenue in Edmonton, Alberta where Freeland ran Common Woman Books, the first women's bookstore in Edmonton, and Radyo ran Zoryana, a women's and men's consignment boutique. Common Woman Books and Zoryana exemplify how members of the Ukrainian community have made a significant impact on various sub-communities in the city of Edmonton, such as the feminist, queer, and Old Strathcona communities. Freeland and Radyo's careers illustrate how our identities are shaped by interaction and involvement with diverse groups and these experiences allow us to build richer, inclusive, and more robust communities.
Common Woman Books and Zoryana were cornerstones of the Old Strathcona community and shared both clientele and an adjoining doorway—allowing the businesses to be a friendly and welcoming environment. The individuals working at the two stores would take turns watching each other's store over lunch breaks, helped each other with childcare, and celebrated events such as International Women's Day together. Common Woman Books held book and poetry readings in the space while supporting events such as concerts and dances for the queer community. Interviewees recall both Common Woman Books and Zoryana as spaces where you could stop in, visit, and feel welcome regardless of making a purchase.
Halyna Freeland opened Common Women Books in 1978 with two women she met while living and working in Peace River: Mair Smith and Julie-Ann Le Gras. They ran Common Woman Books as a non-profit collective originally operating out of Freeland's basement before moving into a permanent location on 104 Street Old Strathcona in 1981. Common Woman Books sold a wide range of texts that covered topics such as the arts, birthing, children, feminist theory, fiction and literature, lesbianism, nuclear disarmament, sexuality, spirituality, violence against women, law, and many others while privileging women authors. It was the first bookstore in Edmonton to carry openly 2SLGBTQIA+ literature, especially feminist theory, lesbian, and women's fiction, and has been identified by the Edmonton Queer History Project as a place that fostered the growth of the queer community in Edmonton. In addition to a storefront, Common Woman Books ran a mailing service and received requests for feminist literature from libraries and women's community centres across Canada. Common Woman Books closed in 1992.
Anna Radyo opened Zoryana in 1980 and ran the business off Whyte Avenue for twenty years. Radyo is a passionate environmentalist and was determined to run a business that was ecologically sustainable in production and consumption. Zoryana sold new and consignment clothing for women and men and manufactured and designed their own label. She arranged her shop to include a play area for children and a seating area for families allowing all customers to feel welcome. She recalls that Zoryana had many regular customers, and the community was very sad to see the business close in 2000.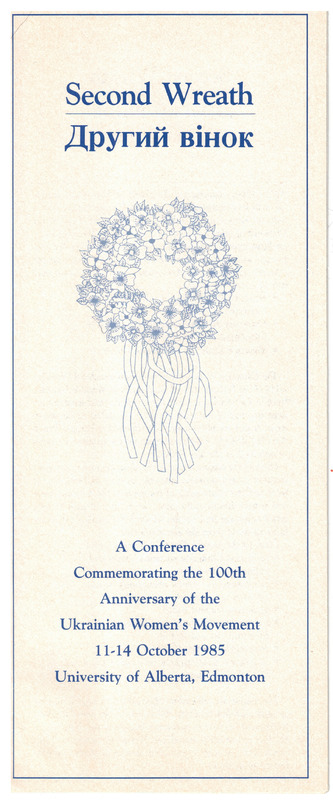 The Second Wreath Conference
The Second Wreath Conference/Другий Вінок was organized by a committee that went by the name of the Second Wreath Cultural Society and included Halyna Freeland, Chrystia Chomiak, Marusia Petryshyn, and Sonia Maryn among others. The name "the Second Wreath/Другий Вінок" makes references to The First Wreath/Перший Вінок—a women's almanac composed of literary works, ethnographic research, and feminist articles often considered the first Ukrainian work to address "the woman question". It was published in 1887 by Nataliya Kobrynska and Olena Pchilka who were leaders of the Ukrainian Women's Movement in Galicia.[1] The Second Wreath Conference was organized to celebrate and raise awareness of the centennial of the Ukrainian women's movement which was officially founded on December 8, 1884 in the Galician city of Stanyslaviv (contemporary Ivano-Frankivsk in Western Ukraine). You can learn more about The First Wreath here (in Ukrainian) or here (in English).
The Second Wreath Conference took place at the University of Alberta from October 11-14, 1985. The four-day conference was co-sponsored by the Women's Program, Faculty of Extension, University of Alberta; the Vice-President's Advisory Committee on Women's Studies, University of Alberta; and the Women's Studies Program at Athabasca University and was funded in part by the Alberta Cultural Heritage Foundation. The conference consisted of 35 seminars and two keynote speeches that explored the relationship between ethnicity and feminism including how women in ethnic communities have historically been excluded from decision making processes or have had their contributions to community building downplayed. Simultaneously, the conference highlighted the role of ethnic women in the women's movement in Canada—an area that was understudied at that time (although it is important to note that this area was being explored in the United States as it related to the role of Black and Jewish women in the women's movement).
Organizing the conference was an enormous task. The committee drew on their networks to invite speakers from across North America and made sure to include voices from different waves of immigration, generation, and ethnocultural groups. For example, the conference featured presentations by representatives of Soiuz Ukraiinok (the Ukrainian Women's League) such as Savella Stechishin, Ukrainian dissidents from the Soviet Union, and feminists from Jewish and Indigenous communities. To learn more about the speakers, topics discussed at the Second Wreath Conference, and concerns of the Ukrainian Canadian community, explore the resources alongside this text.