Learn More About Dr. Ehor William Gauk
Read Dr. Ehor William Gauk's autobiography Bear Life Lived that chronicles his family history, childhood, medical career, and diverse hobbies and passions.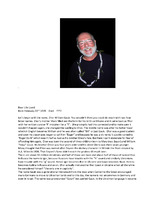 Publications
Ehor W. Gauk, Langford Kidd, and J. Stobo Prichard. "Aglottic Breath Holding Spells". The New England Journal of Medicine vol 275, no. 25, December 15, 1966: 1361-1362. Read here.
Ehor W. Gauk, Langford Kidd, and J. Stobo Prichard. "Mechanism of Seizures Associated with Breath Holding Spells". The New England Journal of Medicine vol 268, no. 26, June 27, 1963: 1436-1441.
Publications about Dr. Ehor William Gauk
St. John's Ukrainian Orthodox Cathedral. "Member Profile: Dr. Ehor William Gauk". The Cathedral Connection, vol. 8, iss. 1, May 2005. Read here.
More Information about Medical Project Osvita
Stay tuned for the publication of Dr. Ehor William Gauk's book The Medical Project Osvita Memoirs. The book contains both Dr. Gauk's recollections leading Medical Project Osvita and those of the physicians and professionals who participated in the project.
A short film was produced by Michael Sulyma in the 1990s about the immediate achievements of Medical Project Osvita. You can view the film below.
Awards
Ukrainian Canadian Congress-Saskatchewan Provincial Council Nation Builders and Community Recognition Awards (2005)
Honorary Doctorate from St. Andrew's College in Winnipeg (2005)
One of 100 Physicians of the Century commemorating the Province of Alberta's 100th Anniversary
The Shevchenko Medal (2004)
Member Emeritus, Alberta Medical Association (2001)
Governor General's Award-Meritorious Service Medal (2001)
Alberta's Advisory Council on Alberta-Ukraine Relations (2000; 2005)
Spotlight of Achievement Award (Ukraine, 1998)
Awards in Dr. Ehor William Gauk's Name
E.W. Gauk Scholarship in Pediatric Neurology Research (University of Alberta, $1800)
Dr. Ehor Gauk Trophy--Best Greenhouse grown Orchid plant through the Orchid Society of Alberta
Medical Project Osvita Archives
After several successful years coordinating exchanges between physicians in Canada and Ukraine through Medical Project Osvita, several external factors forced the project to slow its pace. In the 2000s, the federal government cut funding for international development projects and Medical Project Osvita became largely funded by donations within the Ukrainian community in Canada. A charitable account continues to exist for Osvita within the University of Alberta.
Despite these circumstances, Dr. Wayne Tymchak has carried Medical Project Osvita forward into the present albeit on a smaller scale. Dr. Tymchak arranged for eight to ten Ukrainian physicians within various disciplines such as cardiology, radiology, urology, and orthopedics to train with Canadian medical institutions through the 2000s and 2010s. He hopes to continue facilitating travel and study to Canada for Ukrainian physicians after the 2022 Russia-Ukraine war concludes.
The Medical Project Osvita archives are currently held by the Department of Cardiology at the University of Alberta. These archives consist primarily of administrative and financial documents. To view these archives, please contact Dr. Wayne Tymchak: Wayne.tymchak@albertahealthservices.ca.